. : L E O : .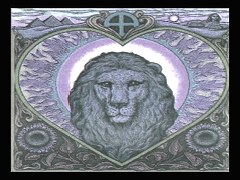 "I will"
a "Fire" sign
Symbol: The Lion
Birthstones: Sardonyx, Amber, Ruby
Compatible signs: Libra, Sagittarius, Aries, Gemini
Dates: July 23 - Aug. 22

Your symbol, the lion, the king of beasts, has long been equated with the Sun. You're naturally inclined to be in the spotlight on stage -- center stage. You project the confidence, nobility, strength, virility, and courage of the lion. Like the kings and queens of old, you feel it's your birthright to be in the center of affairs,with all others dependent upon you for leadership, guidance and energy. You love the enhanced sense of self that wielding power givesyou, and you'll create ways to gain the position of leadership you feel youdeserve.
The lion interchanges his liveliness and laziness as she goes through life with cat-like grace.

Leos possess a love for learning. The ability to rationalize and fix things makes them good teachers, politicians, and psychiatrists.

When the Lion has been hurt or offended, hear them roar. But when content, they can purr tamely.

Ruled by the sun, they have a fixed personality.There is no middle ground with this broad-shouldered, often egotistical lion.

The typical Leo is loyal, arrogant, and big-hearted. Her roar is worse than her bite.






You have the same sign as:
Mick Jagger
Sandra Bullock
Wesley Snipes
Madonna
Antonio Banderas
Lucille Ball
Fidel Castro
Jacqueline Kennedy
Napoleon Bonaparte
Mussolini
Tuxedo Mask